reviews
"Each poem is a chiseled granite diamond. They dazzle, and wound, and won't be dismissed. Your life will never be the same once you've held one in your hand."

—Karen Kenyon, author of Sunshower and The Brontë Family: Passionate Literary Geniuses


"Precariously positioned between blades or floating ecstatically, enigmatically between mirrors, found in the operation theater or a Babylonian brick, the bounties or the bankruptcy of the human spirit, Ishmael von Heidrick-Barnes' poetry offers the challenge to continue changing the lens with which we see the world. These poems are a gift of sharply focused insights and deep compassion."

—Shadab Zeest Hashmi, author of Baker of Tarifa



today's word:
Keep your boots oiled and your arrow straight!
call him ish

Ishmael von Heidrick-Barnes
$15.00 plus $4.00 shipping within the US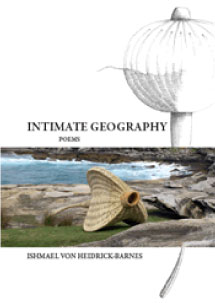 Click here to purchase through publisher For a personalized autographed copy of Intimate Geography ($20.00 plus $4.00 shipping within the U.S.) email the author at: theishmail@yahoo.com